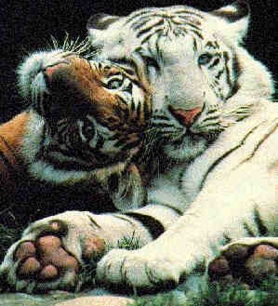 AFP reported today that Prime Minister Nguyen Tan Dung has ruled in favor of three private tiger owners who house 43 of the endangered cats (not for preservation purposes), in breach of a ban on keeping tigers and against the highly vocalized wishes of environmental groups.
Much of the groups' opposition stems from worries based on a history of "habitat destruction, hunting and the illegal wildlife trade had pushed tigers 'close to extinction in Vietnam' with only about 100 left in the wild."
Prime Minister Nguyen stated that the facilities of the owners were "better equipped than Vietnam's zoos to take care of the animals which cannot be released into the wild."
Hmm. Interesting.
Disgrasian Ngo Duy Tan, the outspoken leader of the tiger owners, shared these words about his victory:

"I am very happy," he told AFP. "I believe in the clear leadership of the (communist) party and the prime minister who have received good support from Vietnam's different ministries and agencies."
Note: no mention of tigers
Note #2: no mention of state of Vietnam's zoos
Note #3: no mention of a commitment to preserving tiger population
Note #4: excellent Commie product placement
Filed under: Clear Leadership of the Party, For the Good of the People, The Tiger Trade, Tiger Commies, Vietnam's Zoos Could Use A Makeover
Leave a Reply
You must be logged in to post a comment.